It was raining deals for Esko at this year's edition of the Labelexpo exhibition held in Greater Noida. The provider of integrated software and hardware solutions signed multiple deals over the four-day event held at India Expo Mart from November 10 to 13.
On day 1, VeePee Graphic Solutions, a premium flexo plate supplier to the packaging industry, signed deals for a CDI imager and an XPS from Esko. Another deal on day 1 was with Alpha Flex. Other deals were with the Noida-based Zircon Technologies, Anams Graphic Images, Cochin, and Unicorn Flexo Graphics from Mumbai.
Zircon Technologies
Zircon Technologies, a manufacturer of self-adhesive labels, invested in the latest generation of Esko CDI Spark 4260 as well as the XPS 4260.
Sanjeev Sondhi, managing director of Zircon Technologies said, "For us, this is a new era because Zircon is primarily a label company. With this new investment, we are going to enter into shrink sleeves and centered pouches. That's the reason we picked the larger version of the CDI 4260; the earlier version we had was the 4835. Zircon is now entering into midweb label from narrow web." 
Sondhi said they always wanted to make the plate-making process in-house. "With Esko's support, we are looking to upgrade with flexo technology in CDI and invest in their software for prepress."
Karan Talwar, director of Sales, South Asia, at Esko said, "Zircon Technologies has been ahead of the curve in terms of investing in the best of technology. Zircon was probably one of the first in India to invest in prepress and plate making in-house when it comes to converter space. These new additions will complement their venture into the newer space of packaging."
Thomas Klein, CTO of Hardware at Esko, said, "We have known each other for many years and am looking forward to their next projects."
Vee Pee Graphic Solutions
VeePee, a premium flexo plate supplier to the packaging industry, signed deals for a CDI imager, its sixth one, as well as an XPS from Esko, a provider of integrated software and hardware solutions, at the show. The deals were announced at Esko's stand.
Arnab Maiti, Esko's general manager for South Asia, remarked, "JC (Jai Chandra of VeePee) happens to be one of the longest-standing partners for us in South Asia since 2001. It has been around 20 years." Maiti said XPS is Esko's "groundbreaking" digital LED exposure for flexo plates. "We managed to convince him  again to buy the sixth CDI imager. They are the first ones to buy the second XPS in India. JC had started using it a year ago and found it good enough to augment it with another one."
Jai Chandra (JC), director of VeePee Graphic Solutions, said, "Esko for me is like extended family. XPS is a new technology for us – it took us some time to understand it. But then we realized there is nothing better than the XPS. So, we decided to go in for our second machine, and the sixth imager. I think we're not going to stop at six."
Thomas Klein, CTO, Hardware, at Esko, said "I have always been challenged by JC to make a new step toward innovation. We are working very closely together to take flexo forward. This is definitely not the last thing we did closely together."
Anams Graphic Images
Anams Graphic placed an order for a new Esko Spark CDI 4260-C with HD flexo and imaging engine. Anams supplies processed flexo plates. They operate a Thermoflex 30×40 flexo plate imager to make the plates. 
"Esko offers one of the best solutions in terms of quality and after sales support" says James of Anams. The machine has a hi-resolution, HD flexo screening and imaging engine to help make high-definition flexo plates.
"Esko offers the right solutions for flexo plate making. Our flexo solutions are scalable and can be upgraded according to business requirements," says Fredrick John, Regional Sales manager, Esko.
Alpha Flex
Alpha Flex, a premier flexo plate shop in Delhi-NCR, also got an XPS and a CDI from Esko, a deal that was struck on day one of the show.
"Alpha Flex started operations in 2015 with a CDI Spark 4835 and this year, they upgraded the system to a bigger format, a CDI Spark 4260, as well as an XPS 4260, which has simultaneous UV LED front and back exposure," said Karan Talwar of Esko, adding twelve 4260 XPS have been installed all over India so far.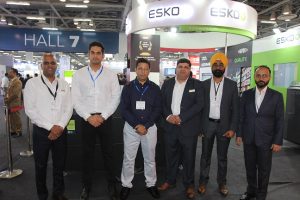 Raghav Madan, partner, Alpha Flex, said they are always looking to grow and to provide printers with something new. "XPS is a technology that will give very good results. We have always looked to simplify, automate, and excel in the field of flexo printing. This is the first unit of 4260 XPS in Delhi NCR.
Unicorn Flexo Graphics
Unicorn Flexo Graphics, a Mumbai-based plate maker, invested in an imager 5080 from Esko. Arnab Maiti of Esko said Unicorn moved to digital flexo a few years ago and was looking to expand to a bigger portfolio. "They saw the reliability and longevity of the Esko imager and invested in a large imager 5080. They are expanding into flexible packaging, labels, and corrugated. It has been quite a nice leap forward. We are delighted to be associated with Unicorn."
Chintan Shah of Unicorn said they were looking to expand and zeroed in on the Esko. "We got the right deal and booked the machine."
According to Namit Shah of Unicorn, flexo printing is growing by double digits, especially the flexible packaging and labels segments. "A lot of gravures are converting into flexo, and all major trade shops are in an expansion mode. Unicorn has been there but in a limited format. Western India has been leading in terms of the growth journey. A lot of flexible businesses are present in the Mumbai-Vapi-Gujarat belt. These are going to be interesting times ahead."