In India, the growing consumer awareness towards sustainable flexible packaging and brand owner pledges towards recyclability have spurred advances in the usage of water-based inks and solvent-less lamination technologies. The introduction of new substrates, water-based inks, adhesives and coatings require higher flexibility, expertise and equipment capabilities in converting plants.
Sustainability and the move to replace non-recyclable multi-layer packaging with recyclable alternatives are progressing in the Indian subcontinent where the plastics industry is undergoing one of the biggest transformations seen globally, in the recent past few years. Environmental concerns, government regulation and consumer preferences have led many brand owners to place a priority on sustainable packaging and declare specific sustainability goals. The Indian government's COP26 commitments will also further drive regulation and legislation for attaining sustainable packaging towards a greener future.
Bobst's actions in this respect are in full swing and in the past years it has developed with different partners along the value chain various process solutions for a new generation of high barrier mono-material polyolefin laminated structures. "Large amounts of packaging produced in India today have recycling constraints. This is especially true for multi-material packaging, which today poses a significant and unresolved challenge in recycling. Consumers have been advocating the necessity of sustainable packaging, and brand owners have been in the front line of fulfilling the pledge to gradually shift towards making packaging recyclable by 2025," said, Nilesh Pinto, Bobst's Zone Business director for the Indian Subcontinent.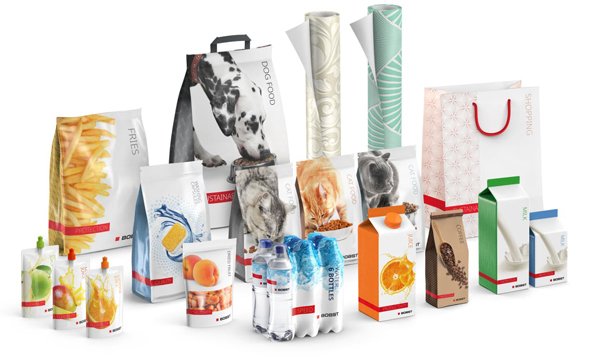 "Machinability is an important aspect of new consumables that need to be thoroughly tested to ensure they can become viable commercial products on the one hand, delivering superior results in terms of optical quality and performance of the output so that they meet the brand owners' and consumers' expectations. They should also meet the requirements of converters in terms of efficient production at speed so as not to affect the profitability of their operations," explained Davide Rossello head of the Competence Center and process manager Gravure at Bobst Italia, Bobst's Center of Excellence for gravure, lamination and coating technologies.
Mono-material BOPE-based laminates
One recent project, close to industrialization, is a collaboration between Ticinoplast and Plastchim-T, (respectively leading producers of blown PE and BOPE), Sun Chemical for new formulation adhesive and lacquer and Bobst for the laminating equipment for the production of a high quality, high barrier, printable BOPE mono-material structure.
The tests were carried out on Bobst coating and laminating lines – the multi-technology Vision D 850 and the solvent-less Nova SX 550 – as well as the Master RS 6003 gravure press. The equipment roles was to identify the critical points of the processing flow and consumable metering and to prepare technical solutions to overcome them. This was accomplished with ad hoc electronic developments and interventions on the handling of the film, but also with particularly advanced components for the application of the water-based lacquer and the solvent-less adhesive.
Meeting the critical requirements of water-based product processing:

coating and drying
To strengthen the PE's oxygen barrier a water-based coating was applied by the Vision D 850 laminator. The new formulation lacquer has a low degree of solid content so it must be metered in a consistent and precise way to avoid the formation of bubbles, foam, or other defects. Various coating methods were tested taking into account converters' preferred systems. Excellent oxygen barrier results were achieved using the new generation Bobst designed pressurized doctor blade coating system, as well as with the more conventional gravure coating system with smoothing bar. In the pressurized doctor blade chamber, the lacquer is kept under pressure by a system of pumps and comes out with absolute homogeneity and fluidity that enable superior optical quality up to 300 meters a minute high-speed processing.
By integrating the latest design concepts, the Bobst pressurized chamber doctor blade also offers a wider coating weight range and minimizes the shear stress that affects performance. Highly flexible, it can be used on both integral and trolley type versions of coating units, and it is very fast to set up and changeover
Drying was another critical aspect of this project. It must be effective and very precisely controlled on two counts – on the one hand, water-based consumables – be they coatings, adhesives, or inks – require significant heat to dry. On the other hand, it is necessary to avoid the overheating that would be damaging for the BOPE substrate, even if biorientation has conferred additional stiffness to the thermosensitive PE film. The Vision D 850 laminator tunnel features a double technology airflow and it is divided into three sections. This enables adjustment of the temperature of each section as required. The combination of this type of tunnel with the pressurized doctor blade allowed Bobst to reach the noteworthy speed of 300 meters a minute.
Bobst has developed a unique system that controls and adjusts in real time the web strain level along the whole web path of the machine, to avoid excessive elongation that damages barrier properties on critical substrates.
Lamination trials with Sun Chemical's new formulation of a solvent-less barrier adhesive were carried out on the Nova SX 550, a compact solvent-less machine. Application of the adhesive was also done at a high speed, delivering a flawless quality finish, owing to the exclusive configuration of the solvent-less coating system, with unique anti-misting geometry together with the laminator's extremely precise web-handling capabilities.
Sustainability, along with connectivity, digitalization, and automation, is one of the four cornerstones of the Bobst vision focused on changing the future of the packaging world. Industry collaborations with an ecosystem of partners are key elements to the implementation of this vision.
Several projects and R&D trials, each with its ecosystem partners are taking place in Bobst Competence Centers and laboratory facilities. Some projects have already reached industrialization. Many more are showing promising results across technologies and processes, taking advantages of the synergies within the Bobst Group and its partners, and will continue to be presented in the course of 2022.
Based on inputs by Bobst, this article has been edited by Naresh Khanna.