Flexible filling and sealing lines are helping the industry by offering affordable, efficient, and customizable packaging solutions. From food and beverages to cosmetics and beyond, CPG producers demand an ever-expanding array of packaging options. With the popularity of personalized packaging for food and beverages, pharmaceuticals, and cosmetics, the individualization trend is gaining strength. 
Adopting advanced automation solutions and technologies is the only way to keep pace with global competition and provide sophisticated and customized products and packaging. Traditional production lines designed for mass production and tuned for maximum output are ill-suited for small batches and one-off production runs. Their long changeovers and rigid designs are challenging to balance between the efficiency and agility needed for mass customization. 
As the demand for flexibility and optimized OEE continues to rise, it's time for machine builders to take the next step in their evolution. Industrial IoT applications are also demanding smarter packaging lines.
The current norm of batch manufacturing cannot satisfy consumers' individual tastes since it leads to considerable investments in distribution centers and inventory costs. This is why most manufacturing setups are keen on achieving production runs with a batch size of one. While consumers are willing to pay a premium for personalized products, mass customization is only possible with a high level of automation. Otherwise, the unit costs are too high, and flexible production is no longer profitable. Changing the existing manufacturing setup for achieving individualization can lead to huge expenses and affect overall viability.   
Intelligent product transport systems
B&R's innovative mechatronic systems make it possible to manufacture small batches and individualized products economically. ACOPOStrak, SuperTrak, and ACOPOS 6D transport workpieces through a machine individually and without being bound to rigid timing. The mechatronic systems can be fully integrated into any machine. These not only reduce the overall footprint of the line but also improve processing precision. They can be precisely coordinate individual processes with one another and synchronize external devices like robots in real-time. High-precision processing is possible even during product transport. 
Flexible batch-size-of-one manufacturing operations need machinery, which can adapt automatically without operator intervention. Flexible filling, sealing, and packaging lines help machine builders reduce cycle times for new product introduction and even allow batch-size-of-one in continuous production. A bottle filling line must be able to detect errors in filling and should be able to stop bottles being filled at the faulty station without stopping the line. The machine and line must be able to account for such errors. 
B&R's mechatronic systems can implement motion control solutions with this level of responsiveness. Unlike conventional belts with rigid timing, intelligent transport systems convey each product individually with variable target positions, speeds, and clearances. State-of-the-art linear motor technology and independent shuttles provide highly responsive transport for efficient production at any batch size.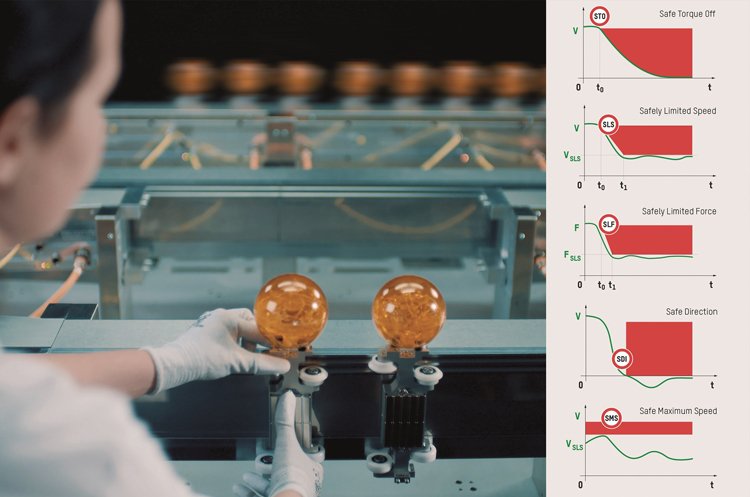 Human-track collaboration
The time of safety cages in manufacturing lines is over. In the future factory, machines, robots, and humans work freely, hand in hand. To enable the same seamless interaction between humans and intelligent transport systems, B&R is the first manufacturer to introduce the concept of human-track collaboration. Whenever humans work hand-in-hand with machinery, safety takes top priority. While there are established safety standards and recommendations for human-robot collaboration (HRC), human-track collaboration (HTC) is yet to be addressed in the same context. To ensure safety at manual workstations and an ACOPOStrak system, B&R uses limit values defined for human-robot collaboration in technical specifications and type C standards from related fields.
ACOPOStrak features five core functions that ensure safety in human-track collaboration – Safe Torque Off (STO), Safely Limited Speed (SLS), Safely Limited Force (SLF), Safe Direction (SDI), and Safe Maximum Speed (SMS). Also, the maximum safety response time of six milliseconds is concise. Altogether, this makes it possible for the shuttles to slow down to a safe speed and exert a safely limited force when in the vicinity of humans. In other areas of the track, or when no one is around, the shuttles travel at full speed and full power.
Software the differentiator
The software has become the differentiator for automation solutions. In the highly competitive packaging industry, a shorter time to market is of prime importance to machine builders. B&R's Automation Studio, the single tool for software development for all hardware, is the perfect fit for machine builders to reduce the time to market. It helps machine builders deliver an unprecedented array of cutting-edge features to support every stage and aspect of product development, simulation, diagnostics, and maintenance. It helps keep the quality up, engineering costs down, and shorter time to market even in the face of ever-increasing product complexity. 
The simulation environment supported by Automation Studio enables the machine builders to develop machines even without the availability of hardware. Automation Studio can simulate everything down to moving components. Its integration with MapleSim and Mathworks enables machine builders even to simulate mechanics. Simulation reduces costs and time due to rework and design errors. Like its other components, B&R's mechatronic systems are programmed in Automation Studio. With POWERLINK, openSAFETY, and OPC UA, B&R offers its customers the ideal tools to meet the high demands of Industry 4.0.
Smart manufacturing with B&R
To remain competitive in the era of Industrial IoT and digital transformation, B&R offers complete hardware and software solutions. It provides comprehensive service and expertise in the automation and digitalization of machinery and equipment. Dedicated technology and global open-source communication standards such as OPC UA, POWERLINK, and openSAFETY, and the robust Automation Studio software development environment make B&R the right partner for implementing industrial IoT for both new and legacy equipment.