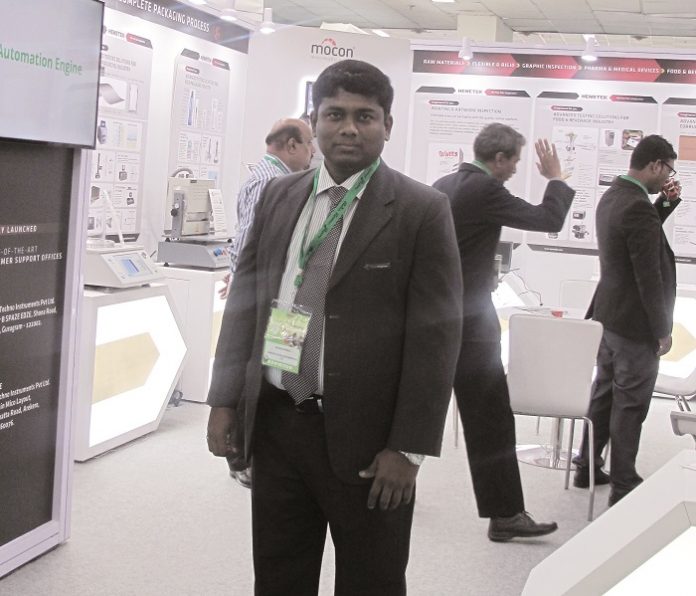 At the recent PackPlus 2017 exhibition at Pragati Maidan, Hemetek Techno Instruments displayed packaging testing instruments and software from Global Vision. The instruments for artwork inspection are important for the packaging industry wherein they help in material testing of sheet strength, bond strength, polymer strength, and more. Hemetek also displayed heat sealers that are tested for permeability from Mocon, one of Hemetek's overseas principals. In its more than two-decade-old history Hemetek has crafted an enviable portfolio of testing, measurement and calibration equipment sourced from principals all over the world. Packaging South Asia met Rohan Bhosale, senior group leader and product manager – material testing and proofreading solutions, Hemetek, at the company's stand at Pack Plus 2017.
Pointing out at the number of products from several OEMs that Hemetek had on display at the event, Bhosale said that the company's strength lies in its vast portfolio of end-to-end testing solutions for the complete packaging chain. Hence, the key visitors at the company's stand comprised stakeholders from different segments of the packaging supply chain—raw material suppliers, polyfilm suppliers and those from the end product segment, such as films and laminates. Hemetek recently partnered a German company called Binder, which is the largest global manufacturer of serial-production environmental simulation chambers for scientific and industrial laboratories.
As a company that sees itself as a solution provider for the widest range of testing, measurement and calibration equipment, Hemetek has been able to build up a vast client base across the packaging, food, pharmaceutical, plastic, textile, rubber and metal industries. The range of equipment that Hemetek supplies to customers generally includes material testing, barrier and permeation, head space analyzers, automated proof reading software, thermal conductivity, force gauges and stands, and friction and hot tack. Given the extensive application area for its products, the number of customers for Hemetek is also proportionately large. According to Bhosale, the company received steady footfall at its stand right from the opening of the show, which included both new and existing customers.
Hemetek has its headquarters in Goregaon, Mumbai with a demonstration and training center at Baroda. Recently, the company opened two offices in Gurugram and Bengaluru, with two more coming up soon in Hyderabad and Chennai, respectively. Bhosale said that his company looks forward to faster growth in the months ahead and is confident of handling higher demand as it has over two decades of experience in its area of specialization as well as a substantial product portfolio to match. Over the years, Hemetek has upped its global credentials among OEMs interested in partnering Indian companies with the capability of servicing a large client base across several industries. As industrial activity picks up pace in the months ahead, Hemetek is hopeful of entering a new phase of growth.