In the last couple of years, Indian pharmaceutical industry has been under pressure from the US Food and Drug Administration (US FDA). Since US is one of the biggest export markets for many Indian drug companies, this regulatory aggression by US FDA has put a huge financial strain on Indian drug companies and has subsequently impacted Indian packaging printers who rely overwhelmingly on these drug companies for business. Due to this development, many packaging printing firms have now gradually started to diversify their customers base and reduce the weightage of pharmaceutical industry in their overall portfolio.
Art in Art Packaging Printers, a very progressive and forward-looking firm based in Mumbai, is among the many aiming to expand in sectors like cosmetics, retail, telecommunications and agricultural products. "The US FDA issue did have an impact, but it was not very severe. We had already started diversifying from the pharmaceutical segment some time ago. However, we are looking to further increase the share of non-pharma business in our overall trade," says Jignesh Gandhi, director, Art in Art Packaging Printers. The company has managed to reduce reliance on pharmaceutical industry to some extent. The share of pharma industry in the overall business has shrunk from 95% of overall business a few years ago to about 80% now. It plans to take this share down to 70% in the coming few years, says Gandhi. Art in Art Packaging Printers prints cartons, leaflets and outserts for its pharma customers.
The US FDA issue revolves around issuance of Form 483 to pharmaceutical companies in case there is any violation of the US Food Drug and Cosmetic Act and related Acts during inspections. Any conditions that are not met with or any negative violation can bar these drug companies from exporting to the US. Since, in recent years there has been a spurt in the negative observations during plant inspections for approvals as well as the issue of warning letters, many Indian pharmaceutical companies were negatively affected which consequently impacted packaging printing firms.
Well equipped to service all types of customers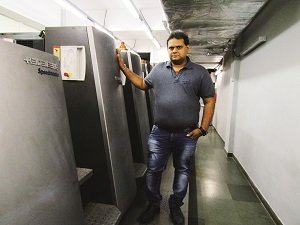 Art in Art, which operates out of Hill View Industrial Estate in Ghatkopar West, has some of the leading brands in its press as well as converting department. In the press department, there are multiple Heidelberg presses with a 6-color plus coater press added last year. In the converting department, Art in Art Packaging Printers has a Bobst Ambition folder gluer as well as Bobst Expertfold with Accubraille, which was installed in the second half of 2017.
"We have been associated with Bobst since 2007 when we first bought a used SP 1080 from Australia. Since then we have bought two brand new folder gluers, which reflects the kind of trust we have in the brand. Bobst does not only supply hardware but is equally invested in its client's success," says Gandhi.
Gandhi recalls how Bobst India team helped during the installation of the Expertfold. "Due to some space constraints we were not able to place the machine initially where we wanted. However, the Bobst team worked hard with our team to customize the machine so that it finally fit where we wanted it to be. It was a great experience," Gandhi shares.
With the rise in volumes due to the new Heidelberg press, Art in Art is now looking to further strengthen its converting section to avoid creating any bottleneck once the printing process is over.
A new plant in the offing
Many packaging printers who were operating inside Mumbai city limits in various industrial estates have moved to bigger consolidated units on the outskirts of Mumbai, primarily because their operations were fragmented, as they operated from many galas in these industrial estates. Art in Art Packaging Printers is also considering moving out of its Ghatkopar unit.
The 25,000 square foot Ghatkopar unit that Art in Art operates from too is spread across a number of galas. So, the company is now looking at consolidating its operations under one roof for a seamless manufacturing process. To achieve this, Art in Art is planning to locate to a new unit in the next few years.
"Yes, we are thinking about operating from a single, consolidated plant and most likely we will make this move in the next three to four years. We have a plot of land in Bhiwandi and that is where we are looking to establish our new plant. However, nothing concrete has been planned yet," Gandhi concludes.