The Indian economy is just beginning to come out of its corona-ry bypass. Business is beginning to have to re-boot under the 'new normal' conditions of managing public health and social distancing. Labor has simply walked away to their distant rural villages, and anxious urban consumers are hesitant to step out of their homes. In such a business environment, the question topmost on everyone's mind is, 'will those shopping baskets be full again?' Will those shopping bags ever bulge again or remain half-empty – like the proverbial glass that can be viewed as half-empty or half-full. (Because alcohol spirits disappeared soon after the lockdown in most markets more people would probably say that the 'glass is empty.' but then that's another matter.)
Speculation about how consumers will respond to the post-Covid scenario ranges from doomsday pessimism to hallelujah optimism. The prevailing global uncertainty and doubtful reality of various economic predictions allow one to be anywhere on the scale, between hunger and hope. "In both cases," as Jeremy Dean writes in psychcentral.com," what the optimistic and pessimistic standpoints are doing is working in service of motivation. Each provides a protective buffer against what Shakespeare called 'the slings and arrows of outrageous fortune.'"
Amidst such uncertainty, almost everyone has a vision or prediction about how things are likely to shape out. For example, one such prediction I found well-articulated, and representative of widely held opinion is by business consulting firm A Priori. Titled, 10 Predictions of how we expect consumers and categories to behave post lockdown the complete deck of slides can be seen on www.aprioriconsultants.com. Very briefly, I can sum up the ten predictions by A Priori as:
1. More health consciousness
Categories that benefit – Nutritious foods, wellness products, insect repellents, home care products, oral care, ACs, air purifiers… many more
2. Home as a social hub
Categories that benefit – Home decor, paints, consumer durables, gaming, QSRs/restaurants, AlcoBev companies, specialty foods
3. Premium economizing
Households facing job insecurity or salary cuts will be forced to economize. The focus will be on packaging to make low-cost products look more premium. Creating new brands or sub-brands to mask price signaling.
4. Second income
More women will try to earn additional income. By becoming tutors, starting art classes, or small businesses (resellers). Categories that benefit – women-oriented brands, EduTech, Online cabs.
5. Rural micro-economies – atmanirbharata in the villages
As migrant workers return home and stay back until the situation stabilizes, there will be self-sufficient micro-economies within villages. Categories that benefit – FinTech, EduTech, Co-ops.
6. The death of local – working capital punishment
Many local brands – especially in foods and personal care, will struggle in the coming months due to disrupted working capital flows. Large brands could take this opportunity to increase their direct distribution to rural markets.
7. The new mating game – right type. right swipe
The search for partners and the rituals of early relationships will be transformed in an age of social distancing. As gyms, restaurants, clubs, workspaces thin out, new online spaces for this game will need to be created.
8. Building your CV – what's your CoVID story?
Young people about to start work or early in their careers will face severe uncertainty and will aim to acquire wider education and experience. Hence EduTech, online job platforms, entrepreneurial networks, accelerators, co-working spaces could do well.
9. 'Rishtey hi rishtey – the small, lean Indian wedding
The Indian marriage market – estimated anywhere between US$ 50-150 billion (approximately Rs. 37,500 to Rs. 115,000 crore) would be disrupted by social distancing and economic crisis. Categories to benefit – apparel, jewelry, consumer credit, travel, consumer durables, home décor like those taxidermy animals
10. Big is beautiful – trusted brands, heavy investment
As seen in earlier recessions and economic crises, big brands that are market leaders tend to bounce back faster and increase their shares. Consumers' behavior patterns are disrupted, and they are open to trying very differentiated offerings that minimize their uncertainty and the pain they are going through.
These consumer predictions by A Priori represent the viewpoint of a stellar list of experienced marketing professionals who have formerly headed positions in JWT, Oriflame, Mastercard, Dell, GSK, and Coca Cola among others. But even they admit to living in the realm of true uncertainty and a level of ambiguity not faced in the past. Hence making definitive predictions in the prevailing conditions, they say, 'would take a degree of foolishness and bravery.'
However, once again amidst all the uncertainty and almost daily revision of data, the temptation to view the future favorably remains almost a basic human need. Tali Sharot, associate professor of psychology at UCL, as quoted in www.ourworldindata.org, has popularised the idea of an innate optimism bias built into the human brain. "It is a peculiar empirical phenomenon," Tali writes, "that while people tend to be optimistic about their own future, they can at the same time be deeply pessimistic about the future of their nation or the world."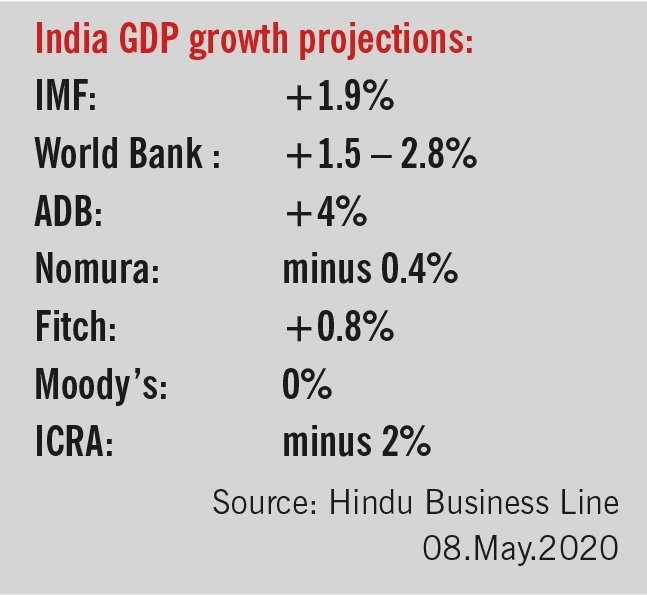 Of course, no one can know definitively how the future turns out, and it is just for that reason all shades of opinion are needed for us to be able to draw a composite picture of what may happen. As quoted in ourworldindata.org, once again, it is believed that better-informed people are more optimistic about the future.
One such person, worth mentioning here may be Sanjay Gupta, VP Corporate Procurement and Packaging Development at DS Group, Noida. DS Group is a US$ 1 billion FMCG company, and Sanjay has been heading its purchase and packaging since 2001. Lately, he has been extensively researching sources and data concerning the outlook of the economy and its impact on the Indian FMCG sector. Among the papers published by him are:
Globalization – Slowbalisation – Localisation
Impact of Monetary and Fiscal Stimulus
Possibility of business shift from China
Economy Angle
During the Packaging Live Webinar on 28 April, organized by PackPlus-Reed Exhibitions, UK, Sanjay made a brief but realistic (and well-received) presentation, supported by data, on the outlook for packaging as an essential lifeline of the economy. A summary of the presentation is given below. The full presentation may be obtained by requesting a copy from the PSA editorial desk.
Packaging – an essential lifeline of economy
Sanjay begins by invoking the Bhagavad Gita and presenting his arguments as a 'Spiritual-Optimistic Approach'
Whatever happened, happened for the good. 
Whatever is happening, is happening for the good. 
Whatever will happen, will also happen for the good.
– Bhagavad Gita
He goes on to refer to various global recessions that the world has recovered from in the past, namely –
1. Depression (1930s, decline in GDP)
2. Supply-side shock (1970s recession due to higher oil prices)
3. Boom and Bust recession (e.g., UK 1991/92)
4. Balance Sheet recession (e.g., Global recession of 2008/09 after credit crunch)
As a consequence of CoVID 19 and as already predicted in the A Priori presentation above, he points out that our buying, storing, spending, consumption, living, socializing, thinking, and behavior patterns will see a change across all types of business.
This would continue to happen as we move from 'Lockdown' to 'Constrained Living' to 'Significantly Altered Lifestyle.' Then Sanjay reminds us of a few fundamentals about the Indian packaging industry.
Packaging is the fifth largest sector in India's economy and is one of the highest growth sectors.
The packaging industry in India is/was predicted to grow at approx. 12%-15%, with flexible packaging growing at 25% and rigid packaging at 15%.
As per global consulting firm EY, the packaging industry is/was expected to witness an outstanding growth during 2016-21 in India and anticipated to reach US$ 72.6 billion by FY 2020. (Key factors are rising population, increasing income levels and changing lifestyles.)
The Indian packaging industry constitutes about 4% of the global packaging industry.
India's per capita packaging consumption is only 8.6 kg per year, as compared to 71 kg in the US, 65 kg in Europe, 20 kg in China and 32 kg in Brazil.
In addition to these facts about the Indian packaging industry, Sanjay reminds us of the 'attractive fundamentals of the Indian economy.'
As one of the fastest-growing economies of the world, India is home to a fifth of the world's youth. Half of its population of 1.3 billion is below the age of 25, and a quarter is below the age of 14.
As per McKinsey, India is one of the largest and fastest-growing markets for digital consumers, with 560 million internet subscribers in 2018, second only to China.
India was expected to see internet users rise by about 40% and number of smartphones to double by 2023.
A trend of mergers and acquisitions (M&A) has been accelerated during last few years, both in terms of deals and size of transactions towards global consolidation.
Sanjay then moves on to quote India GDP growth ratings as projected by various financial rating agencies. The most rapid real GDP per capita growth is forecast to take place in Asia (excluding Japan). India and China are expected to show strong growth. As on 08/05/2020 the IMF GDP growth projection stood at 1.9% amidst almost all other countries except China and Bangladesh projecting "negative growth".
As a catalyst for GDP growth, Sanjay points towards the trend of more urbanization in Indian cities. Notably, the share of urban population is growing all over the world. An increasing rate of urbanization stimulates demand for packaged goods and development of retail infrastructure, subsequently driving up demand for packaging, he points out. (However, it may remain to be seen here what impact the recent exits of migrants and laborers from urban cities back to rural areas will have on this trend.)
In addition, Sanjay points out the likely effects of strong and weak currencies on the global economy. He presents KPMG research figures to illustrate how a strong US$ hurts borrowers the world over.
Then Sanjay looks at the Indian rural economy and observes that it could expect to be shielded from negative impact because:
Bumper Rabi Crop Season (expected to be 6% higher than FY19)
PM Garib Kalyan Yojana to support rural poor through direct cash transfer and 11% increase in MNREGA wages
Prediction of a normal monsoon (99 – 101% of normal)
In conclusion, Sanjay points out a best-case scenario, which could be assumed as below –
Slow revival of economy likely between Nov 2020 to Jan 2021
Delayed and staggered recovery
Structural impact on supply levers – manpower availability; capacity loss, etc. leading to new business models
Possible strategy realignment to accommodate shift in consumer behavior (e.g., higher focus on health immunity portfolio)
To support his point of view, Sanjay quotes the apt words of former president Dr APJ Kalam, "Life is very similar to a boxing ring. Defeat is not declared when you fall down. It is declared when you refuse to rise up!"
Whether we may agree with the data or not, it is clear that 'rise up' we must after this setback to demonstrate the resilience and atmanirbharata that is expected from us. The Shopping bags must bulge with optimism again. The empty glasses must be filled again. Cheers!