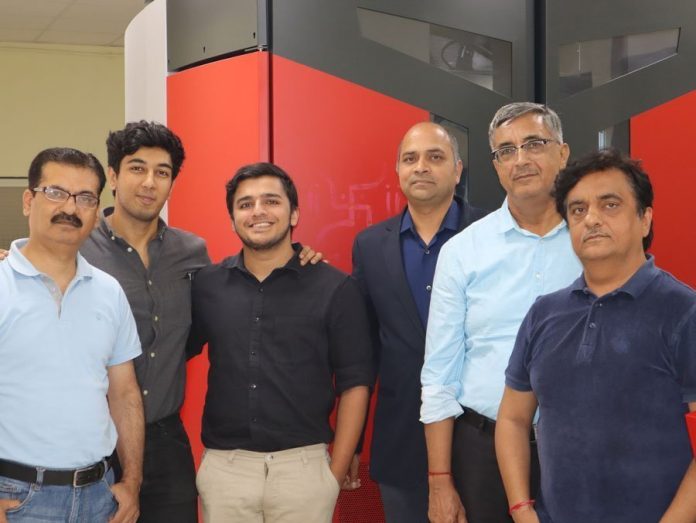 Headquartered in the city of Noida in the Delhi National Capital Region, Hora Arts Centre just installed a Xeikon 3500 digital label press at its Western India plant in Ranjangaon near Pune. For the short-run packaging and label supplier to leading global manufacturers of white goods and electronics, the new Xeikon 3500 digital label press is designed to ensure that labels reach the customers' just-in-time production lines in the region.
The Hora Arts plant in Noida benefits from its close proximity to customers such as Panasonic, LG, Samsung, and a large number of original equipment manufacturers. The Hora Arts label plant in Ranjangaon is also located in the same industrial park as its major customers. The company's new digital press helps to make sure that the assembly lines keep running 24×7 without a hitch, and cater to each client's specific type of label.
Short run and just in time
The key to the company's continued success and growth is the immense trust of its customers who rely on it to deliver specialized pressure sensitive labels several times a day. To deliver short-runs of high-value labels with numerous variants, Hora Arts has optimized its processes with many value-added and security features. They allow the production of labels with variable print features such as barcodes and security marks that uniquely identify each product and collateral throughout the manufacturing process, the supply chain – and right to the consumer.
At both the Noida and Ranjangaon plants, Hora Arts uses offset, flexo, screen and digital presses to deliver labels several times each day and night to its customers. The first digital press installed at Ranjangaon, the Xeikon 3500 label press, is 20 inches wide and capable of printing at 1200 dpi with variable dot density on pressure sensitive film and paper labelstock up to 250 gsm at 19.2 meters a minute.
With heavier stock such as 350 gsm paperboard for monocartons, the speed goes down to 9.6 metres a minute. Apart from CMYK inks, the fifth print unit of the Xeikon 3500 can be used for coating applications or for special colors, including a flat white.
Increased capacity and diversification
The Xeikon 3500 press is capable of printing heat transfer, water transfer, in-mould labels and continuous length wallpaper materials. All of these are of interest to Hora Arts, who is looking to explore the capabilities of the new press to diversify its business, especially in the production of continuous lengths of roll-to-roll wallpaper designs.
Hora Arts is a structured and professionally-run company managed by the second generation of the Hora family, Pradeep and Sanjay Hora. In the past year, the third generation also joined the business. Shailender Kapoor, Plant Manager at Noida, is very clear about why the company purchased the Xeikon press after evaluating it carefully. "Frankly, this decision is based on our customers' demand, and this was also the reason why we set up the plant in Ranjangaon years ago. We needed to replicate our digital capabilities in that region to help us supply special labels at very short notice, even on a Saturday morning or a Sunday or at any time, and to keep the customers' assembly lines running."
Already familiar with the production capabilities of narrower digital presses in the Noida plant, both Kapoor and Sanjay Hora feel that the new digital press is inherently viable. "Because of its technical capabilities and its 20-inch width, it looks more than viable. We have done our homework, and while we are not keen to comment on it before we actually work with the Xeikon 3500 in production for a reasonable length of time, we are confident about its reliability."
New capabilities can induce innovation and creativity
Ramneek and Shivam Hora, who recently joined the family business, are equally enthusiastic. They see the new Xeikon as a bit of an adventure. "The Xeikon 3500's capability of printing with invisible inks for brand protection and anti-counterfeiting requirements are important for our customers. For us, the new press also opens up an opportunity for learning, discovering and being creative. It means innovations and new products for our existing customers and diversification into new areas as well – for instance wall papers. And, since the press is capable of printing with food grade inks, it can be used for short runs, personalized paper cups and other products too," says Ramneek Hora.
Vikram Saxena, General Manager Sales of Xeikon in India, is naturally pleased by the installation of the fourth Xeikon digital press in recent years, and of the first 20-inch wide digital label press in Western India. Saxena says, "We consider Hora Arts an important player in India and we are delighted to partner with their ambitious growth plans. At Xeikon, we are pleased to have a customer who is keen to bring new applications to market and use some of the unique features and capabilities that the 3500 digital press offers."