Together with a value chain team, on 15 July 2021 Dow Packaging and Specialty Plastics, a business unit of Dow announced the successful development of an innovative, polyethylene or PE-based, high-barrier food pouch, which is not only functional, but designed to enable recyclability in PE-streams. The pouches have been created together with Syntegon, Comexi, Ticinoplast and Plastchim-T.
The flexible pouches are made predominantly from a single material – PE. Mono-material pouches are easier to recycle than packaging structures available on the market today, which are made up of multiple materials, each performing a different function. The solution that the team has been able to create enables customers to achieve the necessary functionality provided by those multiple materials – for example, oxygen and water vapor barrier, printability, toughness, stiffness, excellent gloss and clarity – without compromising recyclability.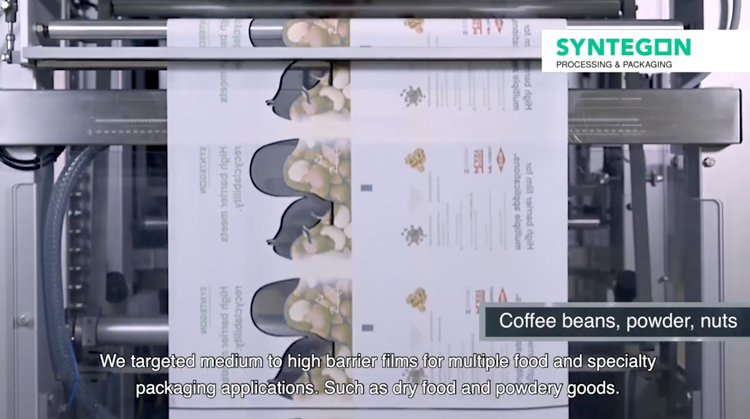 Pierre Hamelink, global account management and sustainability, vertical segment, at Syntegon, commented, "Syntegon is embracing the sustainability challenge towards a circular economy and therefore wants to collaborate with leading brands in the marketplace to offer the best solutions possible to its customers. It's a big step forward: through this joint solution brands who need a recyclable packaging material with appropriate barrier performance for a range of dry goods, and who do not want to compromise on bag quality and machine speed, now have a tune-able option at hand."
Each project member was able to bring in a unique perspective and experience from decades of packaging processing expertise, which led to the new pouch design being developed to run at speed on existing machinery, delivering high quality at each step of the way and therefore providing a commercially-viable solution to the market.
The creation was enabled by the combination of a high-performance, tenter-frame biaxially-oriented polyethylene (TF-BOPE) film developed by Ticinoplast and produced at Plastchim-T, with an enhanced barrier lamination film produced at Dow's Pack Studios Tarragona.
Comexi offset print on PE-based film using Electron Beam curing
Felip Ferrer, brand manager and business development manager of the offset printing business unit at Comexi, commented, "Designing recyclable, flexible packaging is an essential step towards a circular economy. In addition, using sustainable Electron Beam technology in the printing process allows a 100% reduction of volatile organic compound (VOC) emissions and 40% less energy in comparison with conventional solvent-based printing technologies. This project shows that by connecting our know-how with film suppliers – and our global customers for printing – we can develop more sustainable and recyclable solutions."
High-quality, solvent-free, offset printing was demonstrated on a CI8 press at Comexi where the solvent-free lamination step was also performed. The packaging was created at high speed on Syntegon's innovative vertical form-fill-seal (VFFS) machinery with an output of 80 pouches per minute, which makes it a commercially viable solution.
Paolo Rossi, CEO and mono-material flexible packaging engineer of Ticinoplast, commented, "Stand- up pouches are often the most suitable flexible packaging for solid goods, powders and liquids, in both food and non-food sectors. The possibility to form and fill this PE-rich pouch at a high production rate is a step forward for the market. BOPE is a rising technology and thanks to projects like this, companies can come together and create new polyethylene films that can be customized to achieve the best possible efficiency and viable solutions for consumers."
Aydin Faik, owner of Plastchim-T, commented, "It is really exciting after several years of development to have in-hand pouches entirely based on fully recyclable material where BOPE is the novelty that makes the difference. Mutual efforts of all the participants have brought us here and we are confident that by investing in the first hybrid BOPE/BOPP line, we will manage to develop and present to the market new products for many other applications where recyclability will remain the main focus."
"The PEoneer BOPE project films are the perfect blend of high performance and enhanced sustainability. The innovative plastic films further support our increasing commitment to finding concrete solutions to enhance and sustain the circular economy and sustainable bioeconomy."
This collaboration is another example of how Dow is working with partners to ensure that flexibles and films, which are currently hard to recycle, are able to be recycled – and to drive game changing innovation to help keep plastic waste from entering the environment. It aligns to Dow's target to ensure that all of its products sold into packaging applications are reusable or recyclable by 2035.
Jaroslaw Jelinek, global marketing manager for oriented PE technologies, Dow Packaging and Specialty Plastics commented, "By working collaboratively with all project members, we've been able to accelerate a new offering that has been designed with recyclability in mind from the outset. This is not a concept or a project anymore, this is reality. Our global teams have been working through Pack Studios to bring the success of this PE-based barrier pouch to customers and we can't wait for them to see it."
As a leading provider of sustainable packaging materials, Dow is committed to driving the adoption of PE- based, recyclable flexible packaging and this joint effort is an important step on this journey. Designing innovative packaging with recyclability in mind from the outset is a key part of Dow's sustainability strategy and will help lead to a more circular economy for plastics.
Dow's work in this area is enabled by its Pack Studios, where it is using industry-scale testing and production capabilities to accelerate the development of concepts which can be replicated at scale. The design of recyclable, flexible packaging through collaborations such as these are important if the industry is to meet European Union regulations of having 100% recyclable packaging in the market by 2025.