By Itu Chaudhuri
For at least half a century, design has been seeking a seat at the high table. Its leaders, a
motley bunch of academics, 'visionaries' and the odd forward-thinking practitioner, believe that design should have a greater influence in the public sphere. Why not a presence in government or at least on company boards?
To get there, and there are signs of it happening, designers must, like salmon are reputed to do, swim upstream to lay the eggs of their interventions. Upstream is where the decisions are made about what to design, and how to intervene in a given situation. Downstream of this is where eggs are hatched, and design in the narrower sense of giving form to things lies here.
Business has been drawn to design. Its lodestar may seem to be the fifteen year rise and rise of Apple, seen as the best example of making design a competitive advantage. But it's not making attractive products alone that matters. It's the 'design thinking' that the management world talks up as enthusiastically as design's leaders. This is a toolkit of broadly applicable skills, habits and attitudes that good designers (should) have.
These thoughts came, as they often do, from random stimuli (openness to which could be skill #1).
Life saving
The first of these was an email from a friend, pointing to a BBC website* slideshow called
"graphic design that can help save lives". It sounded too good to be true; and while it was, the examples are instructive in other ways. Let's see.
Stephen Doe's wall paintings illustrate with brutal clarity the symptoms of ebola, in low-literacy Liberia, and probably saved lives during the 2014 outbreak. It went viral, via posters and billboards.
Then there are 'plain pack' cigarette packs, with ghoulish graphics of smoker's diseases,
designed to deter, pioneered in Australia. Reports on their success are mixed, but let's go with those that say they do. (Another attitude: being comfortable with validity, not needing proof). Next is the highly distinctive check pattern on British ambulances, which instantly says 'emergency services' to Britons, seen through a rear view mirror, or anywhere else. As an aside, another common device, laterally inverting the word 'ambulance' on the vans so it reads correctly in the mirror has always struck Deep Design as clever but weak, though evidence is lacking.
In each of these cases, the graphic design itself, in the sense of the visual form given to the intervention, is downstream of the upstream decision to act in that way. The designer's craft as form-giver is less important, albeit to varying degrees.
Stephen Doe's wall paintings are effective despite their crudity, not because crudity is somehow a cunning device that makes it effective. Similarly, it's the idea of placing disgusting graphics to cover cigarette packs while eliminating the brand, that has the impact. It constitutes the upstream design thinking, and the details of how the horrific ulcers are pictured is secondary.
If we were to hype, as the BBC report does, the precise shade of brown used—'opaque
couché', billed the 'most nauseating color in the world', chosen after rigorous research, we
would miss the point. And indulge in misplaced mystification, because colors are ugly only by the associations we attach to them. Pantone 448, as the color is known, might readily suit an elegant men's cigarette pack (brown is a staple of men's products).
Likewise the check pattern that spells 'emergency' does so by repetition and its optical property.
That they are drawn from Battenberg cake (the checks show up when you cut through one) is, like the 'world's ugliest color', tag, romanticizing a good choice. The choice of the checks is important, but both impact and the balance of creative weight lie upstream.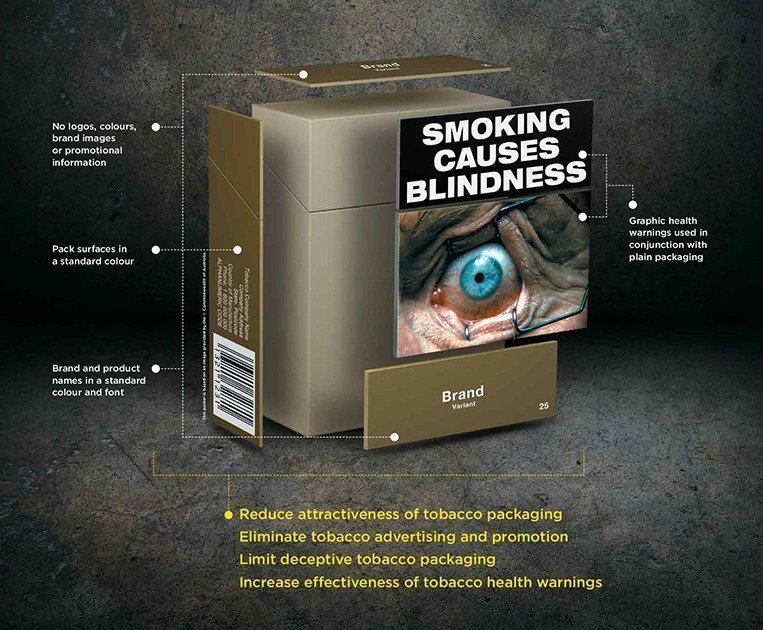 Smoke without fire
More stimuli came in the form of Richard Thaler's Nobel Prize for his foundational work in behavioural economics, (after Daniel Kahnemann's Nobel win in 2002) following a mention of Thaler in the last column, on design and psychology. At the same time came the pre-Diwali fireworks in the form of the Supreme Court's cracker bans in Delhi.
One of the biases that behavioral psychology explores is "what you see is all there is". It refers to our tendency to treat the evidence of our eyes as a complete picture of a reality. Events in the news, particularly the images we are exposed to, called 'available' in psycho-speak, dominate our thinking.
By this thinking, Diwali pollution hogs our attention because both the crackers and their polluting after-effects are strikingly visual, not unlike the uglified cigarette packs. This outweighs its extremely short-lived effect. Instead, it's the long-term, everyday, 'permanent' kind of pollution that matters far, far more. But invisibility ensures its lack of salience.
The Delhi Metro, while it was being built, made diligent use of well-painted and marked
barricades, screening us from continuous exposure to dug-up roads. The Commonwealth Games did not, and invited anger. The Metro construction was admired, the Games' works
mocked. This visual factor likely exaggerated both reputations.
A Job Description
Designers with upstream ambitions must reflect on things in psychological terms. But they also know that none of these upstream acts, however well conceived, would have taken place without the skill of rallying facts, building consensus and steering it through a forest of conflicting
stakeholder interests. Buckminster Fuller's (attributed) description of a designer as "emerging synthesis of artist, inventor, mechanic, objective economist and evolutionary strategist" could well include 'politician' and 'psychologist'.
Indeed, some of the best-regarded companies emphasize design with the new position of Chief Design Officer. Their upstream and downstream influence, and the new skills and mindsets that the CDO and his employers will need, deserve to be considered.
First published in a slightly modified form 'A seat at the High Table' in Business Standard, Deep Design, a fortnightly column by Itu Chaudhuri.