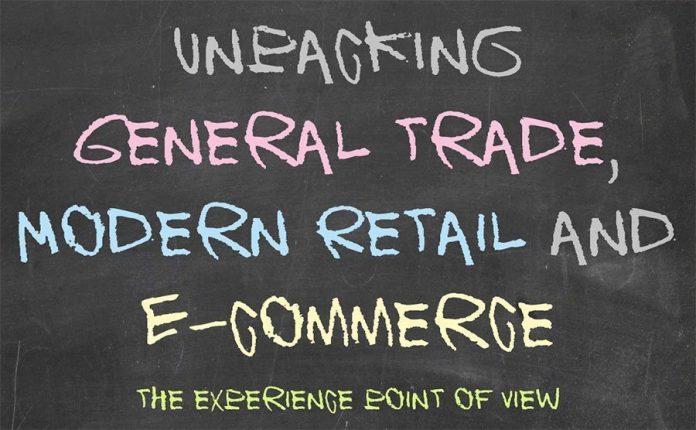 In the times where a consumer is provided with endless choices, consumer experience matters just as much as the quality of a product. It is important that consumer experience complements a product's packaging design to satisfy a consumer and build a lasting relationship. At a conference alongside the PackPlus exhibition in Pragati Maidan a few years ago, Itu Chaudhuri of ICD made an interesting presentation about packaging and consumer experience in the fast changing retail scenario in the country.
He began by characterizing the consumer's or our own experience in the three retail formats – general trade (the local karyana store); modern organised retail (hypermarket or supermarket); and eCommerce. Projected below is a rough approximation of Chaudhuri's remarks.
At a general trade store, a shopper has little time to choose from what the shopkeeper shows from his limited stock. A buyer cannot effectively compare two or more products. On the other hand, the modern supermarket has an abundance of options neatly shelved to choose from.
eCommerce, on the other hand, can be the ultimate time saver and convenient format since the buying decision can be from anywhere and the product is delivered anywhere. It can also be the ultimate time-killer; you can browse for months and never buy. eCommerce allows the buyer to virtually see the product and not just the packaging. Price, details and specifications provided by the seller under the image of a product, together with customer reviews make effective objective comparison possible. Comparitive tools are also provided. In recent years eCommerce has become even more clever.
The general trade store can at times be a less than pleasant experience as customers compete with each other to complete their transactions in a smaller space and with a single cashier. Whereas, modern supermarkets have multiple counters with conveyors, barcode readers and self-checkout systems aimed at multiple product transactions at high speed. eCommerce transactions are only limited by the conveniences and irritations of digital payment methods.
The pressure to buy, and the salesperson's influence is highest at a general store. Since there is little privacy, there can occasionally be some peer pressure. Modern retail is generally free from overt influences apart from the strategic positioning on the shelf or connection with media advertising. Special offers can of course also influence.
Online, one can read product reviews. Advertisers' products are listed first. However, the strategic placement fails if a buyer decides to browse through the complete list of products. Professional customers will even go and examine the product in a brick and mortar store and then shop online for the best price.
The information provided on the back of the packaging functions as a reassurance tool in a general trade shop. It assures a buyer of its authenticity and ingredients. In a modern retail store, the information provided on the back of a product is the only source of information about the product and is highly essential in closing the purchase. However, in the eCommerce scenario, a customer mainly has to rely on the text provided in the description.
Chaudhuri presented his 'hypotheses for modern retail.' According to him, effective packaging makes "modulated shelf throw permissible." It will catch the eye of a customer from afar and has the capacity to stand out from rival products, a prerequisite in a modern retail store. In the absence of salespersons in modern retail, the product has to provide a "deeper narration" of its origin and manufacturing. "Disruption can be amplified by clever packaging in modern retail."
Continuing the hypotheses, Chaudhuri remarked that the correct use of design, shape, color and special effects of packaging can evoke the appearance and feel of a premium product. Modern retail also gives play to bulk packaging of a product with strategic design and pricing; they appear more attractive in terms of cost and utility. Smaller counterparts may stand out for their convenience. Large units also allow additional information to be potrayed on the packaging opening up opportunities for brand owners in modern retail.
Chaudhuri explained a couple of hypotheses for eCommerce as well. When considering eCommerce, the impact of packaging is diminished since the option of touch-and-feel is missing. Small pictures displaying big brand units may work well for retailers in eCommerce. Since the photo of a product on an online store may not be clear, there is a need for "compelling facts" to be put in the description to help the buyer understand the product.
eCommerce provides an even playground for big and small producers and retailers alike. A small business can compete with comparatively larger businesses. Chaudhuri said that it is possible to narrate a compelling brand story through visuals and graphics on packaging.
Lastly, he emphasized on packaging basics. Unique shapes of containers and distinct typography can play an important role in creating brand indentity. Quality marks on packaging convey the authenticity of a product and encourage trust. eRetailers can emphasize quality marks in their product photos on an online store to prove the authenticity of their product.
Itu Chaudhuri is a principal at ICD who writes broadly on design, taking in connected subjects. Sometimes he will offer a way of thinking about problems clients may be facing, and sometimes propose new problems. He promises not to say 'design thinking' unless it's a takedown. http://icdindia.com/