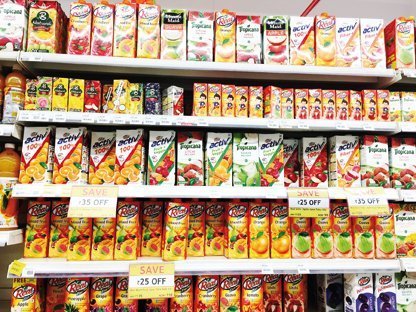 Years back, when I was involved in launching the Multigrain Atta variant for ITC under its flagship staple brand Aashirvaad, we decided to move away from its award-winning design elements of the jute slug and the madhubani art band on top, which has a strong recall for its base variant and the premium Select version. We created a different visual architecture altogether to make it stand out as the healthier variant with more focus on demonstrating the rich multiplicity of five grains that make up the atta and the associated health benefits for the consumer.
Almost a decade later, I was involved in a similar exercise of differentiating the healthier range from the core one. This time, it was a revamp rather than a new launch for Dabur, one of India's largest FMCG companies and a trusted name in the global market. Its renowned brand, Real, offers packaged fruit juices. Real, a brand that has enjoyed customer appreciation as the most trusted fruit juice brand for four years in a row, has a range of 14 exciting variants from exotic Indian Mango and Mausambi to Cranberry, Peach, Blackcurrant and Grape. Made from the best quality fruits, Real claims not to contain any artificial flavor or preservative. It has a sugar-free range under the sub-brand Activ. Real Active has been positioned as a premium, health brand as compared to the mass, fruit juice brand Real. Real Activ comes with a differentiated range like Fruit+Veggie, Fiber+, etc. and is sold at a premium price.
The business problem
Real Activ as a brand was scoring low on salience (low awareness and low trial rate) whereas within the Juice and Nectar category, Real had a very high score of both awareness and trials. Consumers were not able to perceive this brand as any different to Tropicana or Real fruit power. They were also not trying the brand citing reasons like cost and indifference to the brand, which in turn led to sluggish brand growth. Real Activ lacks differentiation from its competitor Tropicana 100% and appears to be another variant of brand Real.
This is a classic case where a company creates two differentiated products for two different target groups. But since it is not able to communicate the difference, consumers are confused and hence are not ready to shell out the premium for the niche product range. Design can come in very handy to solve such business problems.
We redefined the problem and set the objective: To establish Real Activ as a differentiated and premium brand extension of Real and outshout Tropicana 100% on the shelf. We could clearly see that it has not been able to leverage its strength of unique variants which are not there with competitors such as Fruit+ Veggie and Fiber+ range.
Our approach
In an attempt to differentiate itself from Real and Tropicana 100%, the brand Real Activ was trying to reposition itself as an inspiration which helps consumers to look at themselves in a different way and inspire them to start something active and lead 'active life'. The brand stands as a purposive partner in this endeavor. "Come on, Get Activ. You can do it if you try" was the proposed creative route to take this stance forward.
The packaging and the proposition story of the brand had to appeal to a highly evolved health-conscious consumer who goes an extra mile for living an active lifestyle. The core proposition of 'being healthy and active' did not take precedence on the existing packaging as it had not been communicated effectively. Considering the Activ range had differentiated offerings, the benefits of each range could be highlighted and established separately.