By Pooja Patil
Remote working is the new normal. We are no longer limited to our workplaces for carrying out our work. Remotely and independently managing machines and lines are driving future factories and advanced maintenance practices. There is an increasing need for accessing machines and lines remotely. However, in most instances, IT operations in the factory focus on data integrity and data security, while production and maintenance teams focus on machine and line availability. Many factories look at balancing both these needs. 
One of our Indian OEMs in the pharmaceutical industry was troubled with high service costs and higher bills on service engineer travel. Most of the time, the reasons were down to inappropriate information about the breakdown or difficulty in supporting the customer over a phone call. It was also a hassle for the service engineers to travel to various areas across the country for maintaining the machines. Our remote maintenance solution fits perfectly for this customer's entire need for providing better service.
Coupling condition-based maintenance and predictive maintenance in this solution was the icing on a cake for the OEM. Moreover, the scalability offered by the B&R system made it possible for the OEM to incorporate this solution in his existing machines with modifications in system design. He put into practice a remote maintenance solution, coupled with condition-based maintenance, in his machines for effectively diagnosing and predicting faults. He can do this with a secure connection to the machines from anywhere across the globe.
The OEM is happy that this has helped him reduce service costs, travel costs, and provide best in class service to his customers. The condition-based maintenance solution allows the OEM to analyze data and understand any complex failures in any of his machines. Even the slightest issues do not go undetected. Secure remote maintenance, together with condition monitoring, has not only reduced his service costs drastically but also has enabled him to provide higher availability in his machine. Moreover, the customer's factory benefits from improved machine uptime, better productivity, and minimized unplanned downtime. The security offered by the solution helps the factory to maintain data integrity and security and, at the same time, satisfy the production and maintenance teams to benefit from higher availability and thus higher profitability.
The market for industrial manufacturing technology is a global one. Modern communication and transportation make it possible to sell machines and plants to customers in all corners of the world. The task of maintaining those assets, however, can be a daunting challenge. To avoid flying service technicians and engineers halfway around the world, OEMs are increasingly relying on remote maintenance. This remote solution makes it easy to respond to unforeseen problems in addition to accelerating commissioning quickly. As a result, the capacity utilization of a system is maximized.
Quick service anywhere in the world
With B&R's 'Secure Remote Maintenance' solution, OEMs can offer their end customers, service, and maintenance of the machines from anywhere in the world. When a customer's equipment or machine is under breakdown, every minute counts. If a service technician is not available locally, it can be many hours before an expert is on-site. With the B&R remote maintenance solution, a technician can connect, run diagnostics, adjust parameters, and resolve the error – all in a matter of moments. A service technician or engineer can access machines from anywhere in the world to retrieve logbook entries, application data, and much more. Downtime is minimized, and costly travel can be avoided altogether. In this way, a technician can promptly service multiple machines and plants.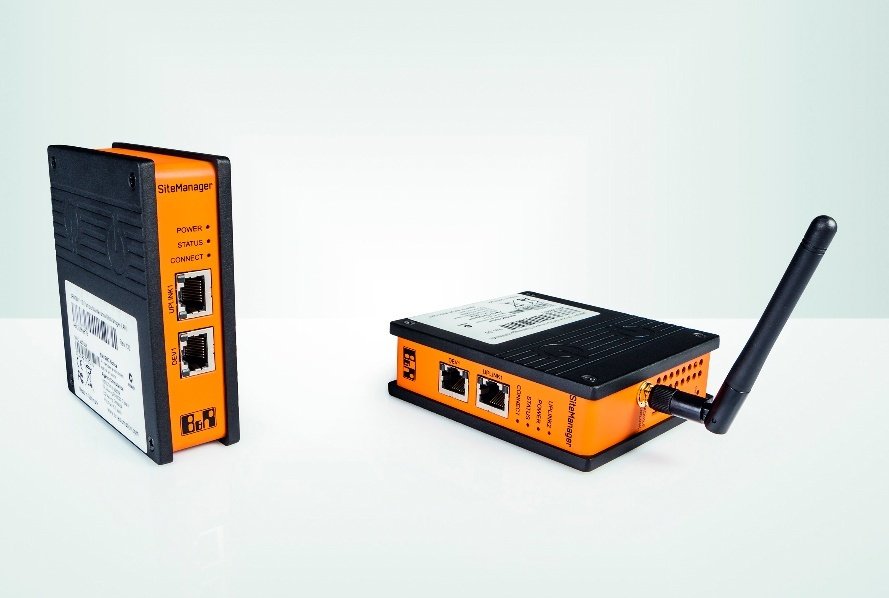 State-of-the-art security
Between SiteManager on the machine and GateManager, data is secured by an encrypted VPN connection further protected by the use of certificates. An additional level of protection is provided by a firewall integrated within SiteManager. Access rights to the machine by service technicians are governed by GateManager and its integrated machine pool management system. Remote access can also be enabled explicitly using a key switch, which can be connected via inputs and outputs integrated in SiteManager.
Easy to use
B&R's Secure Remote Maintenance is straightforward to operate. The technician doesn't need to be an IT specialist to configure it. Access rights to the machine are easily managed in GateManager using drag-and-drop. Using SiteManager saves both time and money since it only needs to be configured once for use on different machines. Secure Remote Maintenance complies with existing IT and security policies. No additional open ports are necessary. This feature makes implementation in a company network about as easy as it gets.
Data acquisition and remote maintenance
LogTunnel makes it possible to record machine data to a central database server (log server) in the cloud or on-site. This permanent connection between a machine and the log server is essential to implement advanced business solutions such as predictive maintenance and monitoring of machine data and condition parameters. The permanent connection is set up using drag-and-drop without requiring specialized IT know-how. Routing, firewalls, or VPN tunnel configurations are unnecessary. The on-demand connection established in the event of maintenance does not interrupt an ongoing permanent data connection via LogTunnel.
Additional advantages with Automation Studio
As with any B&R hardware, SiteManager can be configured in its Automation Studio software. No additional configuration is necessary when delivered, and the machine can be commissioned even faster.
Innovative business models
B&R's remote maintenance solution connects an OEM to all of its assets from one central location. It brings them closer to the customer and allows them to offer additional services with significant added value. New business models are possible, such as using condition monitoring with sophisticated analytics and load profiles to optimize service scheduling.
Pooja Patil based in Pune leads Corporate Communications at B&R India.