The high solvent used in gravure printing is perhaps the biggest hurdle to overcome for this sound technology to maintain its strong position longer term. With increased government regulation globally and public opinion favoring greener technologies, the future opportunities for gravure are destined to be coupled with more sustainable manufacturing technologies to make alternative greener process applications more efficient.
Water-based inks present a long list of benefits and have already been successfully deployed in other printing technologies, including offset litho, flexo, and digital. Water-based inks significantly reduce VOC emissions as these most often contain a maximum of 30% solvents in the formula. Not only does this reduction protect our planet from pollution, but it also makes for a safer and healthier working environment for operators.
However, until now, a minimal amount of water-based ink systems have been used in the gravure market due to the longer drying times, lower press speeds, and poor performance on substrates. As regulations regarding VOC emissions, especially in China and the SEA regions, are now restricting producers of flexible packaging on the type of inks they can use, there is a push in the market to develop inks without solvent printing presses that can handle water-based inks efficiently.
Bobst is developing successful water-based applications on its gravure presses, utilizing Siegwerk's new formulation WB inks. The partnership with the ink manufacturer aims to present ink formulas that will set unprecedented performance and quality levels in gravure printing and have much lower VOC content than current WB offerings on the market.
Chinese restrictions on 5% ink by weight
Initially, the geographical scope for this project in China, where gravure is a mature and dominant technology, and where the government has introduced particularly stringent regulations. As of July 2020, a trial implementation regarding commodity packaging printing for government purchase in China recommends that the content of VOCs in ink used does not exceed 5% by weight and should print no more than six colors on each package. "It is time to rethink packaging and let water-based inks flourish in a circular packaging system. A water-based ink system is a more environmentally friendly and green technology, essential for the future of the ink industry," commented Jimmy Goh, Siegwerk's head of Technical Flexible Packaging in China.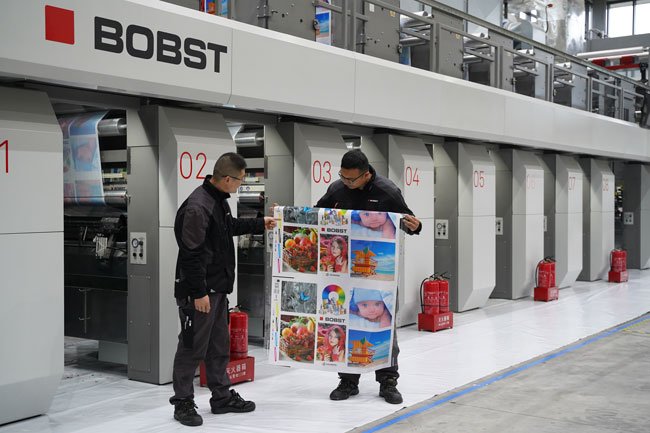 "The main objective of the partnership with Siegwerk is to increase the sustainability of gravure printing and enable flexible packaging converters to comply with new regulations," said Jonathan Giubilato, Product Line Manager Gravure, Bobst Italia. "Sustainability is a core pillar of Bobst's vision of the future of packaging printing, and companies in leading positions must work together to advance environmentally-friendly solutions and establish a benchmark for new technologies."
Bobst says it is continually pushing press technology forward to meet and even exceed demands for more sustainable solutions. Its RS 3.0 PLUS gravure press combines high-speed and quality with water-based inks without compromising on quality. Significantly, it was instrumental in earning Bobst Changzhou a certification as a Demonstration and Training Base for Alternative Applications to VOCs in the Packaging and Printing Industry from the Printing and Printing Equipment Industries Association of China (PEIAC).
The recently launched Bobst Vision RS 5003, which is the next evolution of the Nova RS 5003, a very successful gravure press in the Asian market and beyond, runs at 450 meters a minute and is fully compatible water-based inks. Amongst the many features that contribute to more sustainable production are high efficiency, extended twin flow dryers, and ventilation system for energy savings, unique winders with energy recovery, and Lower Explosion Limit (LEL) system to avoid emissions into the atmosphere, along with the ability to print on thinner and more eco-friendly substrates. The press also features an increased level of automation, helping to enable water-based, high-speed printing.
"Putting together Bobst's extensive and long experience in gravure printing press technology and Siegwerk's strong expertise and know-how in printing inks means that we can deliver a viable and much more competitive solution for WB inks," concluded Giubilato. "Together, we will lead the way in innovation in water-based gravure, as Bobst accelerates the implementation of our future vision for the packaging printing industry – built on automation, digitalization, connectivity, and sustainability."
Smart Packaging Solutions Virtual Congress -19 March 2021
The Smart Packaging Solutions for India and South Asia Virtual Congress on 19 March focuses on food and pharma supply chains, brand security, and sustainability. Organized jointly by IPPStar and the AIPIA, the virtual congress's topics include brand authentication, condition monitoring, and active and intelligent packaging that contributes to the safe delivery of authenticated products leading to safety, security, and customer engagement. Please look at the agenda of the conference here, and for registration, please click here. You can also email Ruchi at conference@ippgroup.in or Umesh at subscription@ippgroup.in. Call us in Noida at 120-4546988 or 4326053 – Umesh at Xtension 30; Ruchi at Xtension 33; Gaurav at Xtension 23; and Mohit at Xtension 25.