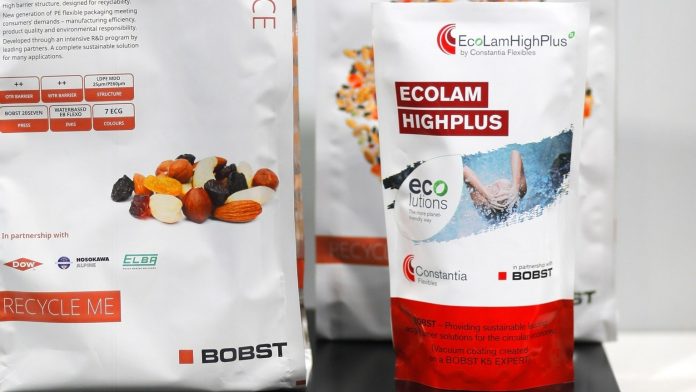 Parikh Flexibles, part of the Constantia Flexibles Group has purchased an Expert K5 1350mm to be installed at a new greenfield facility Ecoflex, Ahmedabad in India in 2021. This specially designed narrow-width Expert K5 will produce Ultra High Barrier PE film meeting market requirements for a sustainable, fully recyclable flexible packaging solution as a replacement for aluminum foil. The Ecoflex plant produces recyclable packaging materials based on PE films produced on a Hosokawa Alpine blown-film line at the new plant.
The purchase reinforces the strong collaboration between Bobst and Constantia which contributed to creating the world's first high barrier PE recyclable solution in Constantia's EcoLamHighPlus laminates which now has RecyClass approval in Europe.
Narrow Width Metallizer for the Converter Market
The Expert K5 has been specially designed and is the first-ever Expert K5 at 1350mm width. The machine has all of the unique features of this well-established model along with newly optimized features, all in a smaller package perfect for the production of MDO PE film.
With the largest coating drum in the industry at 700mm; the Expert gives an increased collection efficiency of 16% and along with the High Rate Source provides better coating uniformity. The 1350mm model has new state of the art optimized web handling, tension control, thermal management system, and barrier enhancing features to enable the production of PE-based film for foil replacement.
The machine also incorporates the Bobst AluBond and Bobst Hawkeye unique innovations. The AluBond process provides high metal adhesion with values up to 5N/15mm as well as enhancing oxygen and water vapor barrier levels on films including MDO PE, BOPP, and CPP. Bobst Hawkeye is an in-line optical density deposition control system that at full metallizer speed, detects, counts and categorizes pinholes and other defects from 0.1mm upwards with remote reporting ensuring no interruptions to production.
Commenting on the purchase, Pragnesh Shah, head of Plant at Constantia Parikh said, "We have worked with Bobst for some time in the quest for fully recyclable metalized film suitable for foil replacement. We needed a machine to enable us to produce our EcoLamHighPlus laminates. The Bobst Expert K5 is perfect for our requirements. We look forward to having the machine installed in our new plant in India next year and to continuing our collaboration with Bobst."
Constantia Flexibles Group is one of the world's leading manufacturers of flexible packaging. The Group supplies its products to numerous multinational companies and local market leaders in the food, personal & home care, and pharmaceutical industries. Parikh Packaging established in 1999 joined the Constantia Flexibles Group in 2013 to support the Group for further growth and expansion in Asia. In 2019 Parikh Packaging opened its new Ecoflex factory in Ahmedabad under the newly established Parikh Flexibles entity. Constantia Parikh mainly produces snacks and chips packaging, stand up pouches, single-unit shampoo sachets, and different roll stock laminate materials.
The headline of this article was slightly edited on 30 May 2020.