One of India's leading flexible packaging machine manufacturers, Kohli Industries held its first in-person open house after a gap of two years. Initially supposed to be a five-day event, from 20 to 24 July, the open house in Ambernath near Mumbai was further extended by two days to accommodate customer requests.
At the open house, Mumbai-based Kohli Industries showcased four machines: Thea-9one8, a-state-of-the-art gravure press; Gaia-405, a solvent less laminator; Zeus-630 slitter rewinder and Eos-630 reversible inspection winder.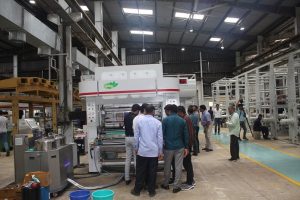 The 10-color Thea-9one8 gravure press ran at 400 meters a minute; its solvent less laminator at 400 meters a minute; the slitter rewinder at 600 meters a minute; and, its inspection winder at 600 meters a minute. 
Solid response to the offline event
During the seven days of the open house over 150 visitors from eight countries witnessed Thea-9one8 for the very first time in person – after having seen it during several virtual online open house events held by Kohli in 2020 and 2021.
In addition, 45 students and five professors from two printing technology institutes received a personal walk-through of all four machines followed by a question and answer session on the printing industry with Kaku Kohli, the knowledgeable CEO of Kohli Industries. "This was the culmination of Kohli's most successful open house since its inception 50 years ago," Kohli said.
Kohli said that the focus now shifts to the forthcoming K show in Dusseldorf, Germany which will be held from 19-26 October. At K, Kohli Industries will showcase the Plutus-9one8, its new multi-process and multi-technology coating and lamination machine.