The International Packaging Conclave 2018 was organized as part of PackPlus 2018 in New Delhi on 27 July 2018, by Next Events and sponsored by Seigwerk. The theme of the conclave was 'Safe Packaging – New Regulatory Landscape.' Although packaging safety has many connotations, this conclave focused primarily on packaged food safety, particularly in respect to food contact safety and migration of package components like inks, adhesives and coatings into packaged foods. This year's conclave was basically a follow-up on last year's, which also focused on food packaging safety.
The conclave kicked off with a keynote session and was followed by three technical sessions and a closing session. The first keynote was delivered by Kumar Anil, advisor (Standards) of the Food Safety and Standards Authority of India (FSSAI). He traced the history of FSSAI, which was set up under the Food Safety and Standard Act 2006 with the primary objective of framing regulations to lay down the standards and guidelines in relation to articles of food and specifying appropriate systems of enforcing the various standards thus notified. Prior to this, the only regulatory system in existence was the Prevention of Food Adulteration Act, which focused on food adulteration and not on comprehensive food safety.
Explaining FSSAI's organizational structure and its working, Anil cited some of the regulatory measures notified by it so far. He also mentioned that FSSAI was in the process of notifying a comprehensive set of regulations on food safety in the course of the next one month. These will be 'draft' regulatory guidelines – open for study and recommendations from industry – and then converted into regulatory rules based on the feedback received. This is a most welcome development as this is the first time a comprehensive set of standards would be formulated and enforced across the board for all food packaging.
The second keynote address was delivered by EU expert Dr. Jorg-Peter Langhammer of Seigwerk. He explained the need for packaging safety regulation and traced the history of regulatory enforcement of laws relating to printing inks in food packaging in Europe and the rest of the world – first in Switzerland in 2010 and and then in other countries like Germany, other EU nations, the USA, China, Australia, Japan and India. He also cited several instances of issues on packaging safety and emphasized the concept of 'perceived safety.' He cited cases of various photo initiators which were first characterized as merely unsuitable for direct food contact but which subsequent research marked as potential risks in food packaging as well.
Regulatory update
This was followed by a regulatory update session in which the first address was delivered by Dr. AC Mishra, joint director (Standards) of FSSAI, who went through some details of the proposed draft regulations that were due to be notified during August 2018 for study and comments by industry which, after a period of 60 days, would be converted into regulatory measures based on the feedback received. Of particular interest was the fact that the exclusion list of ingredients is being expanded to include items like toluene and phthalates. He also explained how these were going to be enforced.
The second address in this session was delivered by PP Sanyal, an industry consultant and convener of the BIS Alert Panel on printing inks. He, again, pointed out the need to eliminate toluene-based inks and to prevent direct food contact with offset lithography inks based on mineral oils. He also recommended some new standards and guidelines for gravure printing cylinders.
The panel discussion on the changing regulation scenario chaired by Ashish Pradhan of Seigwerk consisted of Barun Banerjee of Nestle, Saikat Acharya of GSK, Sunil Bhagwat of Huhtamaki PPL, Ranjan Sinha of Parksons Packaging and Dr. Jasvir Singh of DuPont Nutrition & Health. All the panelists welcomed the need for regulating safety in food packaging and expressed their willingness to co-operate with this initiative. There is, however, an implied increase in cost in the process of compliance and Dr. Singh pointed out that the cost of non-compliance would be an important consideration.
This was followed by two presentations on transition to safe packaging. The first was delivered by Sukhdev Saini of General Mills. He stated a few philosophical thoughts on his company's approach to safety in food packaging and cited a list of lessons learned in their journey to safe packaging over the years.
Nestle case study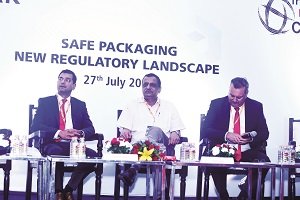 Banerjee of Nestle presented a case study on how they took up the challenge of eliminating toluene-based systems in their packaging and made significant progress on this front. He stated that Nestle identified that, more than anything else, toluene posed a serious health hazard to operators handling ink systems at convertors' premises and to operators running end-of-line packaging machines (from retained solvent levels) and, therefore, needed to be done away with. Although the process of changing over meant incurring an additional cost of between 5% and 15%, there were benefits to be had in terms of lower ink lay-down and print quality; this additional cost was also expected to come down over time with wide-scale adoption and commercialization of alternative ink systems. Nestle identified that this transition needed a collaborative effort from all supply chain partners and, through interaction and stressing on operator safety together with the ink supplier and conversion specialists, convinced all stakeholders that this was necessary. They have now decided, in principle, to go toluene-free as soon as possible.
Another session presented the problems of contaminants and other non-intended additives from components of the packaging materials like adhesives and printing inks. The perspectives of adhesive manufacturers and ink suppliers were presented by Dr. Nayan Bezbaruah of Henkel and Dr. Evert Delbanco of Seigwerk respectively. They explained the measures taken by them internally to ensure packaging safety and the present regulatory scenario in existence in different countries.
The closing address was delivered by AVPS Chakravarthi, managing director of EcoBliss and Roving Global Ambassador of the World Packaging Organisation (WTO), who succintly summed up the proceedings.