Valco Melton Engineering India Private Limited was established in October 2010 by the Cincinnati, Ohio-based US company. Valco Melton India opened the company's first production facility outside of the United States and Europe – in Bengaluru. The company expands its plant for its manufacturing, expanded testing, and demonstration centers.
Valco Melton Engineering India has been mainly engaged in the manufacturing (machinery and equipment) business for the past 11 years, carving a niche in glue dispensing and quality assurance systems. The company provides a diversified product line and a series of services of related services. Its gluing equipment, which is widely used in mono-carton and corrugated carton folder gluers, can handle any challenge, under any pressure, low or high, dispensing to contact and non-contact application.
The company offers easy-to-use electronic control, high-performance pumps, fluid-handling equipment, rugged purpose-built bracket packages, and all-electric dispensing valves and equipment compatible with any cold glue or hot melt adhesive. To reiterate, it specializes in the design and manufacture of dispensing equipment, quality inspection systems, and coating machinery. Its comprehensive and automated quality inspection of all aspects of packaging is an area that we plan to write about extensively in future issues of Packaging South Asia.
Valco Melton – eliminates print defects
Corrugated convertors' print quality expectations are rising over the world. The need to eliminate print defects from the production stream increases due to poor copies, cut sheets, registration issues, and general-flexo or digitally printed imperfections. PrintChek, a camera-based instrument for examining the entire width of every corrugated sheet, was created by Valco Melton's ClearVision subsidiary for this purpose. The system, which may be mounted in either a flexo folder gluer or a die cutter, images, and analyses each sheet's quality.

From smeared, ghosted, or missing print to inaccurate colors, spots, and hickeys, color registration issues, stripes, scratches, and spread, ghosted, or missing print PrintChek may compare each sheet to a standard, showing areas of concern that need to be deleted and examined. Along with defect identification, PrintChek inspects the sheet's geometry for size, skew, and trim, as well as reading and evaluating barcodes for quality.
A low-profile camera module with numerous cameras positioned above (top-print) or below (bottom-print) the sheet, as well as light modules to illuminate the sheet, is the basic premise. As the sheet passes by, line-scanning cameras take photos, which are then reassembled to analyze. Defects as little as 2.0 mm are noticeable. For reliable ink formulations, assessment and matching required corporate color standards can resolve color measurement with a delta-E value of 3. A sample box can be used as a "golden standard" if there is no viable pdf standard to compare.
To activate desired inspection tests, configure tolerances, and view photos, PrintChek employs the same ClearVision BoxChek 7 interface. The live image is always shown on the screen, and defects are apparent in the defect viewer and occur. The defect viewer classifies photos, allows for close analysis, and underlines the reason for the fault's detection. The defect data is saved in SQL format, and the defect image is saved for review later. If the standard is available as a pdf or an existing standard has been learned, it can automate the complete picture —no human intervention is necessary to arm the system.
PrintChek gear is built to ClearVision's standards to withstand being within a corrugated environment while remaining clean and inspecting. When the system is not in use, high-volume, low-pressure blowing air keeps the cameras dust-free, and an automated cover protects the light and camera glass. The camera enclosure has a tiny cross-section and fits in most presses, watching the entire system.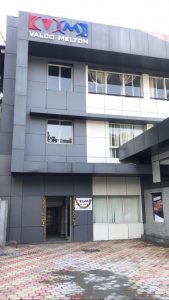 Based out of Bengaluru in South India, its manufacturing unit is adaptable to the packaging industry's changing market needs. Moreover, as a standard industry brand, it takes on the responsibility to manufacture designs that can be retrofitted with a wide variety of leading brands' equipment. For this reason, VM tries to make its solutions easy for customers to install without locking them into a particular product.
Valco Melton India has continued building its team of experienced managers and sales and service technicians. Apart from Bengaluru as the main office, it developed its support centers in pan India. It plans to increase the sales and service support of all hot melt and cold glue products and partner rapid business growth and various applications in India and the surrounding countries in the region.