Whereas digital printing has succeeded in establishing its value in the traditional areas of the print media industry, adoption has been a bit slower in the packaging industry with the exception of the label printing market, which began adopting digital print technologies relatively early. This is due to multiple factors: there were no relevant digital systems available; the requirements of the packaging industry are completely different from those in the traditional printing industry; and the players in the slightly conservative packaging industry have taken a little more time to adopt a digital future than their commercial printing counterparts. But the tide is beginning to turn.
A growing numbers of producers and customers are recognizing the benefits of digital packaging print and implementing the technology. Without a doubt, one of the 'breakthrough moments' was the now legendary Coca-Cola Share-a-Coke campaign. Just a few months following Coke's innovative approach to placing names on coke cans, for example, Ferrero followed suit with variable Nutella labels.


The market is growing
According to the latest forecasts, the volume of the worldwide print market is set
to grow to Euro 420 billion by 2020 from a current level of around Euro 407 billion – following the significant sharp decline in the years between 2008 and 2010 from Euro 438 billion to Euro 407 billion. Within the global print market, packaging print is the only area that will grow significantly, with an increase of 3.3% per year, for a share of the overall market of Euro 141 billion by the year 2020.
This includes folding boxes, labels and flexible packaging. In terms of specific printing processes, flexo printing is projected to see 2.6% growth, and digital printing 8%. Today, only 7% of packaging is printed digitally, but that share is projected to grow significantly. For packaging converters, digital printing can be a logical adjunct to analogue printing and simultaneously allow them to develop new applications. But more on this later.
"Just how much digital print technologies will impact production depends on how quickly digital printing presses for the industrial production of packaging are developed. A further – very important – factor is the cost of procurement, maintenance and repair, as well as the cost of the printing inks. In addition, it has not yet been possible to achieve all Pantone colors with digital printing. Printing onto coated papers and the drying that requires also remains a serious challenge. Once these challenges are resolved, digital packaging printing will impact production significantly, even revolutionize it," says Hubert Marte, Forum Wellpappe Österreich (Austrian Corrugated Cardboard Forum).
It is also worth mentioning that the report The Future of Package Printing to 2019 by Vlad Savinov, Smithers Pira, 2014, anticipates an annual growth of 17% for digital printing. This makes it the fastest growing technology within packaging print, projected to reach a volume of US$ 19 billion by 2019.
Packaging trends
The choice for consumers has become considerably greater and brands are anxious to differentiate themselves from competitors to acquire market share. Packaging is playing an increasingly important role in acquiring consumers 'at the shelf' when the final buying decision is made. Packaging increasingly must influence consumers and engage all of their senses.
Marte comments, "The growing trend to-ward smaller packaging units, ever stricter safety regulations for packaging and booming online sales will continue to drive growth in the packaging market over the next few years. For this reason, it will become increasingly important that packaging is more environmentally friendly, recyclable, printed in high quality and intelligent, integrated into the Internet of Things with features like QR codes, increased customization and more."
"The packaging market continues to be marked by integration and consolidation. Overcapacity and resultant price wars are the order of the day. Growth in the entire sector really depends on consumer behaviour. Their buying decisions are often driven by complicated graphical and color representations at the point of sale. This requires a high level of investment in value added processes by packaging converters in order to create packaging that stands out," says Eduard Fischer, managing director, Schwarzach.


The European view
The European packaging market is continuing to expand due to growing population and converters are using all available print technologies. "The key market trends we see are ever more products on the shelves and micro-segmentation to address a variety of consumer demographics," reports Francois Martin, responsible for worldwide Marketing Graphic Business Solutions at HP. "For many years, HP has enjoyed double-digit growth in the number of pages printed digitally as a result."

The packaging market – including the related digital printing solutions – can essentially be divided into four sectors: labels, flexible packaging, folding cartons and corrugated. Each of these areas has its own dynamics and characteristics. The label market was the first to recognize the benefits of digital printing. The other markets are now following suit, but not at the same speed or via the same route. The label market has a 10- to 12-year head start on corrugated in terms of digital printing implementation.
Advantages of digital printing for packaging
Today's media fragmentation means that consumers are continuously bombarded with information and messages that they virtually ignore as a matter of course. Packaging is certainly one of the last media channels that still attracts consumer attention. But to achieve this, products must stand out on the shelf; and brand owners are responding with ever-faster product cycles and more relevant packaging, which also contributes to smaller lot sizes, shorter production cycle times and more demand for digital printing technologies.
What also drives more interest in digital printing are demographic developments, including increasing numbers of single-person households with purchasing behaviours that differ from those of larger families, including quantities purchased and shopping budget. In addition, households of the 50-plus generation have unique requirements for packaging. Plus consumers are more sensitive to cost and environmental issues as well as convenience. For packaging producers, this means handling an increasing number of smaller orders. The turnaround times are becoming shorter as a result, and production planning is becoming more complex.

"Digital printing helps companies meet these new challenges and optimize their production as compared to analog methodologies," says Francois Martin, Marketing Graphic Business Solutions, HP. Stephan Ratt, CEO of the Ratt Pack Group in Austria, agrees. "We currently see growth in minimum order sizes in the non-food sector," he says. "That means more firms here are entering the fray by acquiring digital printing presses."

The world of digital labels
HP has now installed more than 1,000 digital presses in the market, and considers that digital printing has become mainstream. Xeikon has well over 300 systems installed, and more than 50% of its sales now come from the packaging industry. Traditional companies such as Heidelberger Druckmaschinen have gone down the digital path via Gallus, and since Labelexpo 2015 are fully on-board with digital with the Gallus Labelfire 340.
This converting system, developed in a joint project by Heidelberg and Fujifilm, is equipped with the latest generation of inkjet printheads and prints at a quality level that was previously only achievable in offset printing. It delivers high-end UV inkjet print quality with a native resolution of 1200 dpi at a speed of 50 metres a minute, with the flexibility and efficiency of digital printing combined with the benefits of flexo printing. Also unique to this solution, in addition to out-standing print quality, is the integration of in-line finishing modules. The Gallus Labelfire 340 prints digitally from roll to the finished, diecut label; all in one-pass.
French company Autajon bought and tested the first system, and has now ordered three further systems.

Label print shops increasingly recognize that digital printing can be used as a logical adjunct to the long print runs in flexo or offset printing. Designs can also be changed rapidly. It's almost as if label design is turning into fashion design. Some wine bottles are becoming style icons as a result. And the next digital wave is already on the horizon: flexible packaging, folding cartons and corrugated will also be riding this tide.

Flexible packaging
The market for flexible packaging is significant and will continue to develop digitally in the coming five years, but it is also subject to social change (primarily due to external mobility). People eat and drink on the move (nomadic mobility). Flexible packs are gaining popularity and increasingly replacing fixed packaging. In the food sector in particular, flexible packs are easy to handle, and they fulfil the current trend for less waste and a smaller carbon footprint. The convenience factor cannot be ignored in this segment, either. Digital printing provides manufacturers of flexible packaging the opportunity to grow their businesses. The formula is a simple one: high quality packaging, produced digitally, with just-in-time delivery. This is why the technology is currently gaining ground, supported by presses such as the HP Indigo 20000 that issued a clear signal to the packaging market with its launch.

Swiss firm O. KG was the first company in the world to install an Indigo 20000 and specialize in the production of flexible packaging using flexo, gravure and more recently, digital printing. "Digital printing is gaining importance in flexible packaging printing," says CEO Martin Kleiner. "The HP Indigo 20000 introduced a quantum leap in digital production of flexible packaging and opens up many new opportunities for flexible packaging print with its printing width of 736 millimetres." O. Kleiner KG has leveraged its HP Indigo 20000 to produce small runs as add-ons and to provide new options for customers in the smaller run sector. A good example of this is closures for small jam jars. Whilst flavours such as strawberry are produced in large runs, other flavours such as raspberry have smaller batch sizes. These will in future be produced using digital printing. Further applications include test packages or personalized packaging.

Colorful world of folding cartons
Digital printing is still relatively new in this market sector within the packaging world, even though there are now several excellent examples of applications here. The folding carton industry tends to use the technology for small and differentiated runs; print runs before or at the end of large, conventional runs are another application. Digital folding carton printing is currently still considered to be in the early adopter stage; in other words, the users who have recognized the trends and developed the first applications.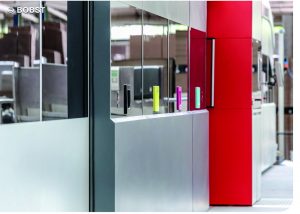 A good example of this is Peter Sommer from Elanders in Germany who, together with Ritter Sport chocolate, concocted a fascinating project. A special website was set up where consumers were able to order personalized packaging for their Ritter Sport chocolate. This was a venture that really paid off, as customers were willing to pay considerably more for this chocolate. The project also gained recognition from Mediaware in Ireland who implements packaging projects for Microsoft. There are now a growing number of projects of this nature as brand owners recognize the potential and savvy print shops are helping them to realize creative ideas.

Packaging made from corrugated
To date firms processing corrugated have been slow to adopt digital printing technologies, with the exception of those using flatbed systems (HP Scitex, Durst, Mimaki, swis-
sQprint . . .). However, this is more due to the fact that until now there had not been many systems available on the market that could be used for corrugated. But this will be chang-
ing relatively quickly due to providers such as Bobst or the HP/ KBA joint venture, both of which will be exhibiting at drupa 2016.

And the large players in the industry very clearly see the advantages of being able to respond to market requirements more quickly and thus being able to offer a higher level of
service. The use of digital technology is also helping to optimize workflows and potentially also re-design production sites – following the principle of using the right technology for
the right jobs.
Digital Colossus in pre-print
Following barely two years of development, HP and KBA presented the world's first HP PageWide Web Press T1100S to a group of visitors in Würzburg in November 2015. This gigantic inkjet machine with a web width of 2.80 metres and with digital pre-printing of the top layer is opening up new options for the flexible production of corrugated packaging in
different sizes and run lengths that were not economically feasible before. "Finishers and their customers need to develop both customer-appropriate and effective packaging whilst
reducing costs," comments Eric Wiesner, general manager, PageWide Web Press Division at HP. "With the combined expertise of HP and KBA, we have now launched the world's
most productive roll printing press for corrugated. The HP PageWide Web Press T1100S allows finishers in the high-end sector to offer added value by combining pre-print and digital printing in one machine."

The first customer for the HP T1100S was DS Smith Packaging. The company was interested because in comparison to standard analog printing technologies, the system offers considerably greater productivity and flexibility, particularly with small and medium sized runs. Thanks to its high productivity of over 30,000 square metres of printed area per hour, the press can be used cost-effectively for large runs as well. The Brits are clearly taking the project very seriously as they have already been experimenting for a year with the T400 system purchased specifically for this purpose.

Another current example in the corrugated carton market comes from Bobst. At the last drupa in 2012, CEO Jean-Pascal Bobst announced that his company was developing a digital printing system. The project, shrouded in secrecy, is now in use with beta testers just a little over three years later, specifically at Model in Switzerland and at Schumacher in Germany. This industrial digital solution for printing packaging and displays made from corrugated material uses Kodak's Stream Inkjet technology and offers not only intense color reproduction and one of the highest print resolutions available, but also functions with food-compatible printing inks.

The digital sheet press designed for 4-color printing on a wide range of uncoated and coated corrugated permits the personalization of runs large and small of packaging and displays at high speeds. At an outstanding speed of up to 200 metres a minute, the new press delivers high quality on sheets up to a maximum size of 1.3 x 2.1 metres.

Special applications
These days, digital packaging printing is not restricted to just the areas mentioned above. Labels and codes are not covered in this article as that would be far beyond its scope. However, there is a range of special applications that shows just how versatile and creative digital printing can be in practical use.
Here are two examples: The German start-up company mymuesli recently installed a Heidelberg Jetmaster Dimension at its site in Heidelberg for the customized printing of muesli packaging. That means you can not only buy your favourite muesli but you can also design your own muesli container yourself with a picture and text.

The Jetmaster Dimension was modified for mymuesli's special requirements and installed in the company's Heidelberg print shop. It is the first machine of this type that Heidelberg has installed directly in a retail outlet.
The filling machine manufacturer KHS has, together with Xaar, implemented a project where printing is carried out directly onto PET bottles at the Belgian Martens Brouwerij. The digital direct printing system uses Xaar 1002 GS6 printheads and achieves a physical resolution of 360 dpi where text and graphics are printed using low-migration LED inks in 4C plus white. This means that 12,000 bottles an hour can be printed directly. "The system now allows us to change graphics in just minutes rather than weeks," confirms Phil Johnson at NMP, the KHS subsidiary that developed this system.

"The use of digital technologies gives the packaging industry the ability to participate in the micro marketing trend. The option to add new designs to bottles on the fly is a powerful marketing tool that permits brands to localize and personalize their products in a customer oriented manner," says Phil Johnson, managing director, NMP.

Looking ahead to drupa
Visitors to drupa 2016 will certainly see several solutions that demonstrate the implementation of digital technology in the packaging industry. One example of this is Benny Landa's nanotechnology that this time will be shown with a complete system for packaging production. It is a fascinating sector that will be stimulated by all of these developments. And above all . . . this is a growth market. Good news for the industry!

What also makes digital printing attractive are demographic developments. There are increasing numbers of single person households with purchasing behaviours that differ from those of larger families, including quantities purchased and shopping budget. In addition, households of the 50-plus generation have unique requirements for packaging. Plus consumers are more sensitive cost and environmental issues as well as convenience. For packaging producers, this means that they are handling a larger number of smaller orders.